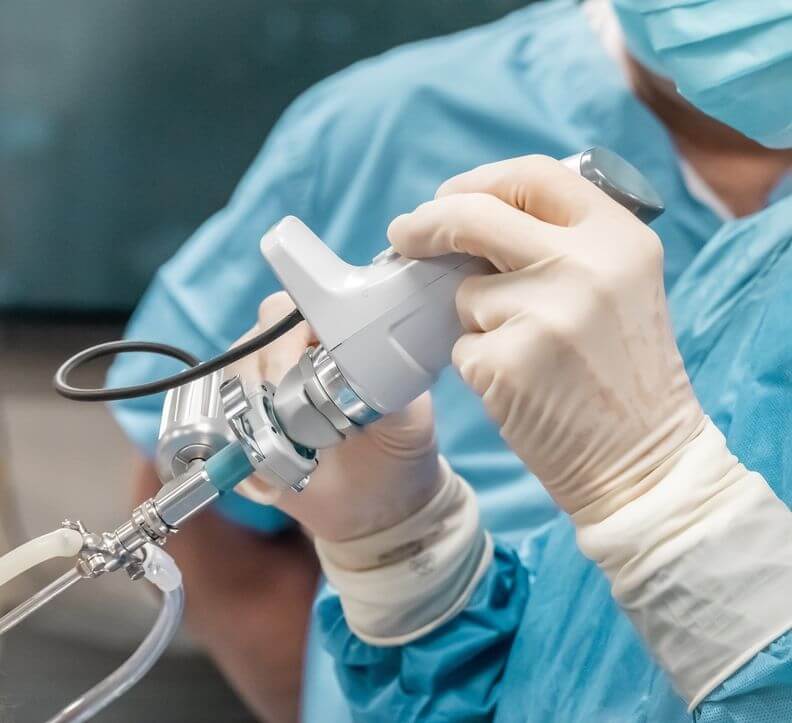 From a $10 million financing round to a new name, Cleveland-based medical device startup company Lazurite (formerly Indago) is taking steady steps toward its plan to launch its ArthroFree wireless arthroscopic camera system next year.
The company plans to submit its premarket notification later this year and expects to receive FDA approval to launch in the first half of 2022.
"We're now at a place — and we've been at a place since probably the end of last year — where I've been traveling the country installing and setting up ArthroFree temporarily on surgical towers and having surgeons interact with it, and the response has been just fantastic," said Lazurite CEO Eugene Malinskiy.
In June, the company announced it had closed a $10 million convertible note round of financing, bringing its total raised to date to $18 million since the company formed in 2015.
And in July, it announced it would collaborate with the Center for Health Affairs, the nonprofit advocate for Northeast Ohio hospitals, and its business affiliate CHAMPS Healthcare, as it works to bring the smart platform of tech-enabled surgical tools to market.
Brian Lane, president and CEO of CHAMPS and the center, said working with Lazurite is an opportunity to potentially create an economic lift through new jobs while also bringing to market a device that could help mitigate risks in surgeries.
"The perfect dovetail is to find things that are going to help the hospitals, help the community and then elevate everybody," Lane said. "I think this is the perfect example of that type of solution and partnership."
Leah Brownlee, Lazurite president and general counsel, said CHAMPS offers unique access to a dataset, decoupled from names, to help figure out pricing within the market place and give the company a better chance of success. And going forward, she hopes to be able to leverage the CHAMPS Group Purchasing network as the company further develops.
Malinskiy co-founded the company in 2015 in search of a solution to a problem he witnessed in an operating room: a bundle of wires running across the floor. They were necessary to connect the video and light devices needed for surgery but created limitations and a trip hazard.
Lazurite ultimately created two devices. ArthroFree is the wireless camera system for minimally invasive surgery that eliminates the connecting cables and aims to reduce costs and improve safety and efficiency in the operating room. It is equipped with Lazurite's second technology, the Meridiem light engine: a low-heat, high-efficiency light system. It is a non-LED type of technology with potential opportunities in markets beyond health care, Malinskiy said. For instance, it may have applications in aerospace or manufacturing.
"So in essence, for a lot less power, we can produce the equivalent amount of light," he said.
The company's name change is a rebranding that reflects the technology of the broader platform of the technology, Brownlee said. The name "Lazurite" is both a play on the word laser (a nod to its laser-based lighting technology) and a mineral of the same color blue that its light emits.
Lazurite has added five employees in the last 10 months, bringing its FTE total to 14. The company is looking to continue growing with plans to add about six people per year for the next three to five years, Brownlee said.
The company plans to submit its 510(k) premarket notification later this year. Its FDA approval process doesn't require any human or animal trials. Rather, they need to conduct studies showing the electronic compatibility of the device in the OR, the ability to effectively clean the device so it can operate in a sterile field as well as possible drop testing.
While the pandemic created a roadblock for many biomedical companies' abilities to conduct necessary trials in the health care setting, Lazurite didn't need to do any of these in hospitals or operating rooms. "It actually had a little bit of an opposite effect because our first target audience, which would be arthroscopic surgeons, tend to do elective surgeries often," Brownlee said. "They had a lot more time to talk to us in the last year."
That gave the team at Lazurite an opportunity to talk with these surgeons about the product, gather interest and importantly, get feedback about the device.
"We let them use our device in a simulation and ask them a series of questions, and so the availability of doctors to participate and give feedback was fantastic within the last year," she said.
This summer, the Lazurite team attended a national conference (the combined annual meeting of the American Orthopedic Society for Sport Medicine and the Arthroscopy Association of North America), marking the first time it had shared its technology with a wide public audience rather than private showings with surgeons around the country. At the event, hundreds of surgeons tried out the device and judges ultimately gave Lazurite an award for new technology innovation, which Malinskiy said was a "massive validation to the team here, but also really to all of our supporters and our investors and our board that we're on the right track, we're doing the right things."
"Generally speaking, the feedback we've gotten has been incredibly positive," Malinskiy said. "They're very excited to be disconnected from the wires."